No matter what stage you are at in the patent journey, our experienced attorneys and solicitors can guide you through this complex and technical process.
As a client, you will benefit from always working with specialist attorneys and solicitors who have either worked in industry or with in-house legal departments and so have a truly commercial perspective. As one of the leading patent practices in Europe, our clients tell us that they value the depth of experience our attorneys and solicitors are able to offer them in all technical disciplines, including biotechnology, chemistry, pharmaceuticals, electronics, engineering and IT.
Our attorneys have extensive experience in drafting and prosecuting international patent portfolios through to grant in worldwide jurisdictions. We regularly handle important and valuable contentious matters both for patentee and opponent and our patent practice has an enviable track record in European Patent Office (EPO) opposition and Technical Board of Appeal hearings. Our attorneys are active in steering legislation and policy in the UK, Germany and at the EPO, where partners are members of various influential committees.
D Young & Co has one of the most respected and largest patent teams in Europe, providing a full range of patent services, including
Patent drafting in all relevant jurisdictions
Filing and prosecuting patent applications directly at the UK Intellectual Property Office and the European Patent Office or with the International Bureau of WIPO
Worldwide prosecution is handled by our network of trusted overseas agents
Representing clients at all levels within the EPO, including oppositions and appeals
Infringement (freedom to operate) and validity opinions on third party IP
Litigation in the UK, Germany and coordination internationally
Portfolio audit and strategic advice
Due diligence work for funding, stock market flotation, business or project acquisition
Attorney guided searches conducted by specialist patent searchers
Renewals
Drafting and advising on IP agreements, and on non-disclosure agreements, R&D agreements, licences and assignments
The exploitation of IP rights for revenue opportunities
Supplementary protection certificates (SPCs) / patent term extensions
Unified Patent Court
We are also looking ahead to the Unified Patent Court (UPC) and have been closely involved in its development, such that we are intimately familiar with its framework, procedures and jurisdictional arrangements. D Young & Co will be able to offer a broad choice and availability of representation in all divisions of the UPC and our solicitors and patent attorneys are particularly well placed to assist clients in this new European patent litigation forum. Our attorneys and solicitors have a huge amount of experience of contentious patent work in the courts of Europe and the EPO and in working together to create a seamless patent dispute resolution service. We look forward to having the opportunity to represent our clients before the UPC in the full range of cases that will be adjudicated there.
Read more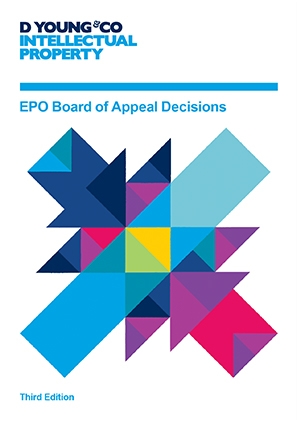 Patent Book EPO Board of Appeal Decisions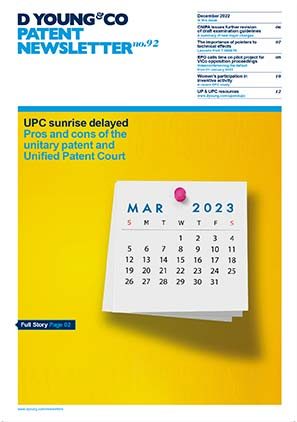 Patent newsletter Latest edition