---
Ironing board patent
Sarah Boone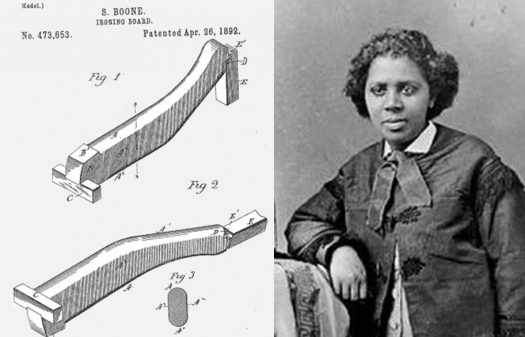 Sarah Boone (1832-1904) is only one of four African-American women to have been granted a patent by the US Patent Office between 1865 (the end of the American Civil War) and 1900.
Sarah was born into slavery in North Carolina – an area where at the time it was illegal to teach a black person to read and write. Sarah married and moved to Connecticut and it is believed learnt to read and write in her forties.
Sarah was working as a dressmaker when she improved upon the design of the ironing board through the addition of hinged legs and a change to the width of the board that made it easier to iron sleeves.
She was granted a patent in 1892 by the state of Connecticut. Records show that the Boone's owned their own house giving an indication of success.
Source material
---
Microelectronics chip
Lynn Conway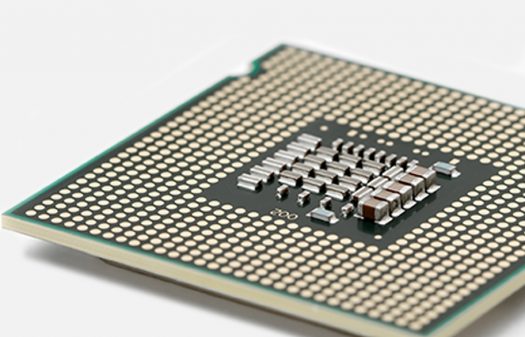 Lynn Conway, born 1938, is a world-renowned inventor of microelectronics chip design. Now in her ninth decade, she has led a fascinating life achieving successes in the field of science and computing that for most are simply unimaginable. Lynn was born into a male body, and for most of her life, she has battled against discrimination, both before and after her transition from male to female in the late 1960s.
Conway dropped out of MIT in 1959, months before graduating, falling into depression after being denied access to hormone treatment. It would be two years before she returned to education, earning both a bachelors and masters degree from Columbia University. After graduating, and still living as a man, Lynn started work at IBM. It was here that in 1965 she devised the ground breaking Dynamic Instruction Scheduling (DIS) enabling computers to issue multiple out-of-order instructions per machine cycle in supercomputers and thus enabling the birth of superscalar computers.
In 1967, ten years on from her first attempt at asking for help, science had moved on and pioneering sex change surgery had become a possibility. Lynn decided to try again and informed her employers that she would be transitioning from male to female. Company management was shocked by her plans to transition and she was sacked a few months before her gender transition surgery. The sacking was just the beginning of the discrimination Lynn would face. As a man, Lynn had married and fathered two children; transitioning meant that she was blocked from seeing them for the next 14 years. She also found it difficult to get a new job – each time a background check was completed, job offers were rescinded or employers would refuse to take things further.
Eventually, she was offered a role at Computer Applications, Inc. (CAI) and then at a small computer company (Memorox) where she worked on computer architecture. From here, she moved to Xerox and worked in the renowned Palo Alto Research Centre where she pioneered the design of Very Large Scale Integration (VLSI) – a technology that enabled modern chips like the Pentium chip.
Despite becoming well known for her work on VLSI and continuing her research work (for which she has been named as an inventor on five patents), throughout this period, Lynn lived in what she terms 'stealth' mode, with very few people knowing anything of her background. She lived fearful that exposure would mean a loss of civil rights and a loss of employment. She even spent a semester teaching a VLSI course at MIT without disclosing that she had been a former student.
It was only in the late 90s that Conway felt able to open up about her background. Lynn is Professor of Electrical Engineering & Computer Science, Emerita, at the University of Michigan, Ann Arbor. Today Lynn supports young people with gender identity dysphoria (GID) through her website.
Source material
---
Double helix structure of DNA
Rosalind Franklin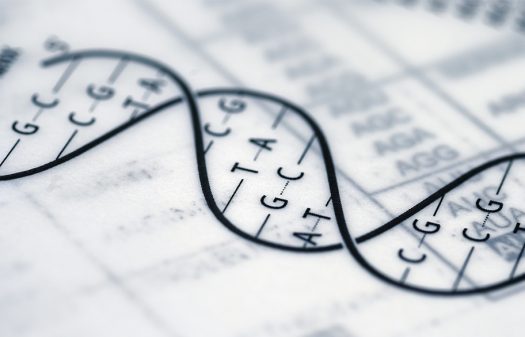 2020 marks the centenary of the birth of Rosalind Franklin (1920-1958). Rosalind Franklin was a British chemist who made a significant contribution to the elucidation of the double helix structure of DNA along with Nobel Prize winners, Maurice Wilkins, James Watson and Francis Crick.
Rosalind was born in London and studied natural sciences at Cambridge University. Although Rosalind was born into a wealthy and educated family, at that time it was still highly unusual and difficult for a woman to study chemistry. After graduating, she worked as a research chemist in the British Coal Utilisation Research Association, with her studies on the molecular structure of coal earning her a PhD from Cambridge in 1945. After the war, she found a job in Paris where she became adept at analysing carbon using X-ray crystallography. X-ray crystallography is a tool used for determining the atomic and molecular structure of a crystal. The crystalline atoms cause a beam of X-rays to diffract into many specific directions, producing a diffraction pattern or photograph. Detailed analysis of this pattern can then be used to determine the 3D structure of the crystallised molecule.
Rosalind subsequently moved to the Biophysical Laboratory at King's College London, and developed new X-ray crystallography methodologies to investigate the structure of deoxyribonucleic acid (DNA). Maurice Wilkins was also working at King's at that time, and accounts suggest that Maurice and Rosalind had a difficult working relationship. In 1952, Franklin obtained an X-ray diffraction pattern of DNA, and it is thought that Wilkins shared this photograph with James Watson and Francis Crick without Rosalind's knowledge. In addition, Max Perutz is alleged to have shared a report including Rosalind's detailed notes on the X-ray analysis with the team.
This X-ray diffraction pattern was a vital piece of evidence used by Watson and Crick to solve the double helix structure of DNA, paving the way for a revolution in biology and the development of the sophisticated recombinant technologies we take for granted today.
It is less well known that Rosalind also carried out a significant body of work on the structure of viruses. After a move to Birkbeck College, Rosalind's research group used X-ray crystallography to probe the structure of a number of plant viruses, including the Tobacco Mosaic Virus, now perhaps one of the most well characterised viruses to date.
Despite a tragic death from ovarian cancer at the age of 37, Rosalind's work was of fundamental importance, and her life serves as an inspiration to many female chemists and biologists to this day. In 1962, Watson, Crick and Wilkins were awarded the Nobel Prize in Physiology or Medicine for their work on the structure of nucleic acids. Since this was after Rosalind's death, we will never know whether her contribution would have been recognised with a share of the prize (the Nobel Prize cannot be awarded posthumously). Given the environment for female scientists at the time, it seems unlikely that she would have been recognised by the Nobel committee. Thankfully, more recently Rosalind's achievements have been publicised in many other ways. The Rosalind Franklin Institute dedicated to interdisciplinary life science research was established in 2018, and in 2022 the Rosalind Franklin rover will be sent to Mars to search for organic compounds on the Martian surface.
In 2020, over sixty years after Rosalind's death, Emmanuelle Charpentier and Jennifer Doudna shared the Nobel Prize in Chemistry for their work on the CRISPR/Cas9 methodology for genome editing, the first time two women have shared the prize.
Sources
https://www.chu.cam.ac.uk/archives/online-resources/rosalindfranklincentenary
Rosalind Franklin: The Dark Lady of DNA, Brenda Maddox.
https://www.newscientist.com/people/rosalind-franklin
---
World-renowned fashion designer
Tommy Hilfiger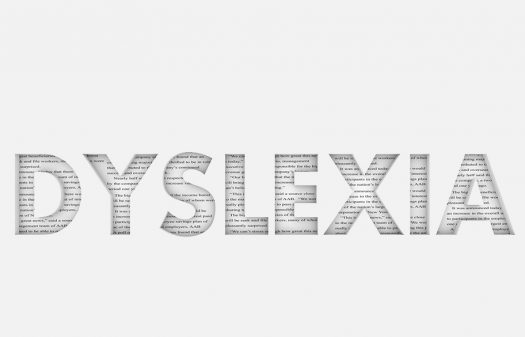 As one of the world's best known fashion designers Tommy Hilfiger's labels can be found in high street stores almost everywhere allowing him to amass a huge personal wealth built around a hugely successful and iconic brand.
Born in 1952, the second of nine children growing up in a small city in New York, Hilfiger's parents wanted him to get a college education and pursue a traditional career. He struggled at school with basic reading and writing due to his undiagnosed dyslexia. He is said to recall classmates calling him stupid. It wasn't until later that he realised he was dyslexic.
At the age of 18 he started building his own company launching his menswear range in 1985, which later expanded into women's clothing and a range of luxury items including perfume. In December 2005, Tommy Hilfiger sold the clothing brand for US$1.6 billion, to Apax Partners, a private investment company, who next sold it to Phillips-Van Heusen for US$3 billion. Hilfiger remains the company's principal designer, leading the design teams and overseeing the entire creative process. In 2012, Hilfiger was awarded the Geoffrey Beene Lifetime Achievement Award from the Council of Fashion Designers of America.
Dyslexia certainly didn't stop Hilfiger from achieving his goal to be a successful fashion designer. In fact he has since said that his inability to read well and feeling inferior in school was his inspiration for starting the luxury fashion brand. He still struggles with his dyslexia to some extent but actually credits it for his success and for making him stand out from the crowd.