Top ranking for D Young & Co in The Legal 500 UK 2022
We are delighted to celebrate the news that our patent and trade mark attorney teams have again been ranked as top tier by Legal 500.
We are very grateful to our clients and peers who participated in the Legal 500's research. Client testimonials include the following comments:
"It is a pleasure to work with D Young & Co. The team is very professional and responsive."
"Prior to working with D Young I worked with other firms in three different continents, and none of them come close to the professionalism and dedication offered by D Young & Co."
"Extremely good technical knowledge of the specific technology we work in. Able to drive solutions based on that knowledge and willing to interact with our input."
"D Young's patent attorneys, their associates and technical assistants are exceptional. Despite the lack of face to face meetings due to the pandemic, the quality of service has not wavered."
"They are very good at managing expectations and dealing with both expected and unexpected developments in the course of prosecution, oppositions, and even cancellation proceedings. They are one of our go-to firms for trade mark work in the UK and the EU, because they simply get the job done – and they are a pleasure to work with."
"D Young & Co's trade mark team is highly pragmatic – they balance genuine commercial understanding with impeccable knowledge of the law. Their advice is always direct, to the point and well judged."
"The practice covers all key IP areas and manages to provide comprehensive and in-depth legal advice which is tailored to the client's needs and preferences. The legal analysis is top-notch while still managing to remain pragmatic and business oriented."
"The team members are highly responsive, very professional, very knowledgeable while being nice and fun people to work with. They know their clients and their preferences and manage to provide tailored advice every time around."
PATMA: PATENT ATTORNEYS TIER 1
D Young & Co LLP demonstrates particular strength in EPO patent prosecution, further increasing the number of filed EPO patent applications and remaining very active in opposition and appeal proceedings. The number of filed PCT applications also increased, while UKIPO patent work remained steady.
The practice's wide technical range makes it an excellent choice for cross-disciplinary matters, for example in the fields of AI or medical device technology, where clients benefit from the combined experience of the electronics, engineering and IT team and the biotechnology, chemistry and pharmaceuticals team.
Jennifer O'Farrell, a specialist in immunology, molecular biology, biotechnology and biochemistry, joined the London team in September 2020 from Boult Wade Tennant LLP. In April 2020 chemistry expert Catherine Keetch made partner.
The Munich office allows the firm to directly file German patents, with the wider trade mark and design expertise attracting clients that seek to consolidate their IP matters with one firm.
PATMA: TRADE MARK ATTORNEYS TIER 1
D Young & Co LLP has seen a significant increase in UK trade mark applications, partly thanks to German and European clients that arrived through the firm's growing Munich office and entrusted the team with their UK matters.
The group's clients benefit from the combined attorney and solicitor teams and increasingly instruct the practice for contentious matters, in particular opposition proceedings before the UKIPO, including appeals before the Appointed Person, the EUIPO and the German trade mark and patent office.
The size and experience of the team allow for wide sector coverage, with the food and drink, fashion, luxury goods and pharmaceuticals sectors among the core areas of expertise.
Domain name disputes and disputes before the Company Names Tribunal are another significant part of the group's caseload.
INTELLECTUAL PROPERTY: TRADE MARKS, COPYRIGHT AND DESIGN TIER 4
D Young & Co LLP's IP solicitors work in alignment with the firm's top-tier prosecution practice on contentious mandates for global clients...Jeremy Pennant and Tamsin Holman, Anna Reid and senior associate Jake Hayes are active in the FMCG, hotels, cosmetics and social media sectors. In a recent highlight, the team defended SEGA against trade mark infringement claims brought by Manchester United in the High Court. Partners in the Munich office enable representation before the EUIPO.

The Legal 500 UK 2022
Link to view the full Legal 500 UK 2022 entry for D Young & Co LLP.
Read more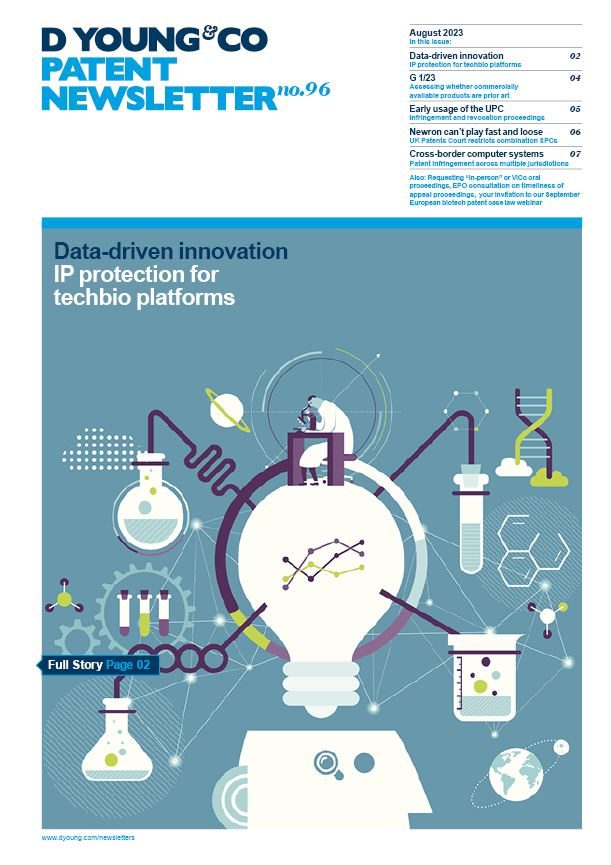 Patent newsletter Latest edition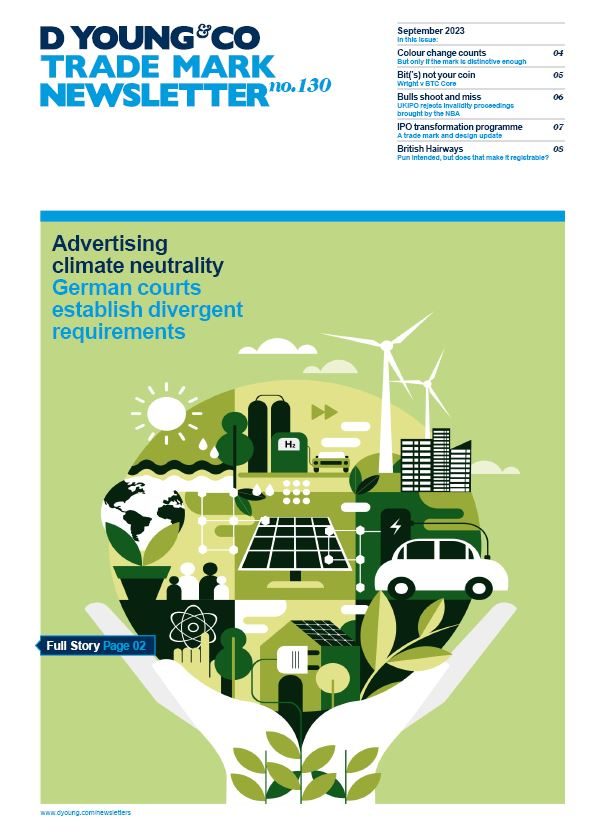 TM newsletter Read the latest edition