IAM Patent 1000 Gold: D Young & Co "undoubtedly one of the United Kingdom's strongest prosecution practices"
We are pleased to report that D Young & Co features once again as a top tier European Patent Office and UK patent prosecution firm in the IAM Patent 1000 2023 survey.
IAM Patent 1000 comments: "D Young & Co is undoubtedly one of the United Kingdom's strongest prosecution practices, with a deep bench of 89 dedicated patent practitioners covering nearly every technical and scientific field imaginable. One client remarks: "Our D Young & Co contacts are highly valued and trusted, delivering both quality and efficiency. D Young is a firm we are able to consistently rely upon to deliver excellent work and advice."
The survey remarks that: "Anthony Albutt leads the outfit's mechanical offering with technical and legal finesse. Mobilising a background in engineering, Albutt is a perfect choice for companies across a range of technologies, from aerospace to medical devices. Recently, he and the group were selected to take over the European portfolio for the London-based Woven Planet Holdings, subsidiary of Toyota, developing systems and software for autonomous vehicles. Jonathan Jackson, a certified patent litigator...is especially well versed in oppositions and appeals, and is renowned for his specialist expertise in telecoms, consumer electronics, sportstech and medtech.
For microelectronics, computer parts and general physics, Nicholas Malden is an excellent choice. One of Malden's strong points is his remarkable international network, part of which comes from his time serving on the Chartered Institute of Patent Attorneys' international liaison committee and a research stint in Germany. David Meldrum heads the electronics group, utilising his background in electronic engineering to great effect. Meldrum heads a team that has taken on the European portfolio of semiconductor design and manufacturing company Qorvo Inc."
The survey continues: "On the chemical and biological side, the firm is equally well equipped. Organic chemistry PhD Zöe Clyde-Watson is a whizz across a range of chemical technologies, and patrons enthuse about her expertise. "Zöe has deep case history knowledge which she brings to bear in support of patenting strategies. She is very proactive in strategising actions in support of freedom to use, and she has strong opposition skills." Former pharmaceutical in-house attorney Garreth Duncan also receives praise: "Garreth is a go-to attorney for European patent questions. He knows the pharmaceutical industry well and serves on the Intellectual Property Owners Association's Pharmaceutical and Biotechnology Issues Committee. He's also a great guy and a true pleasure to work with."
For organic chemistry questions related to pharmaceuticals and nutrition technologies, Kirk Gallagher is a great choice. With over 20 years' experience in the profession, Gallagher is especially well suited to complex and high-value opposition and appeal proceedings at the EPO. Alongside Neil Nachshen and Kit Wong, Gallagher takes charge of Teva's portfolio and in a number of opposition proceedings. Nachshen has personally worked on patents for Teva for over 20 years, and, like Gallagher, is an experienced and accomplished hand at EPO oppositions. The third partner on Teva, Wong, has provided training directly to Teva's in-house team on patent issues. She also works on patents for early-stage synthetic biology company Evonetix.
The long-serving Charles Harding has worked in the patent profession for over 30 years, including 28 with D Young & Co. Harding is an expert across the life sciences, including biotech, molecular biology and immunology. His deep knowledge of patents is put on display in his lectures at Queen Mary University of London. Passionate about enzymes, molecular biology, genetics and immunology, Tamara Milton is an experienced representative before the opposition divisions of the EPO. She has conducted numerous cases both defending and opposing key patents for clients. Technically proficient, with a PhD in biological chemistry, Simon O'Brien has also cultivated significant commercial savvy and regularly provides players across the life sciences industry with IP due diligence in advance of stock market flotations. Joining the ensemble in 2020, Jennifer O'Farrell expands the team's range in the fields of immunology, molecular biology, biotech and biochem. Her desire to stay at the cutting edge of developments in the field is exemplified in her membership of the UK Bioindustry Association's Cell & Gene Therapy Advisory Committee. Another expert on the bench is Lawrence King, who joins from Simmons & Simmons. An ace with pharmaceutical patents, thanks to a lengthy stint in-house at GSK, King tops up D Young & Co's already impressive life science practice.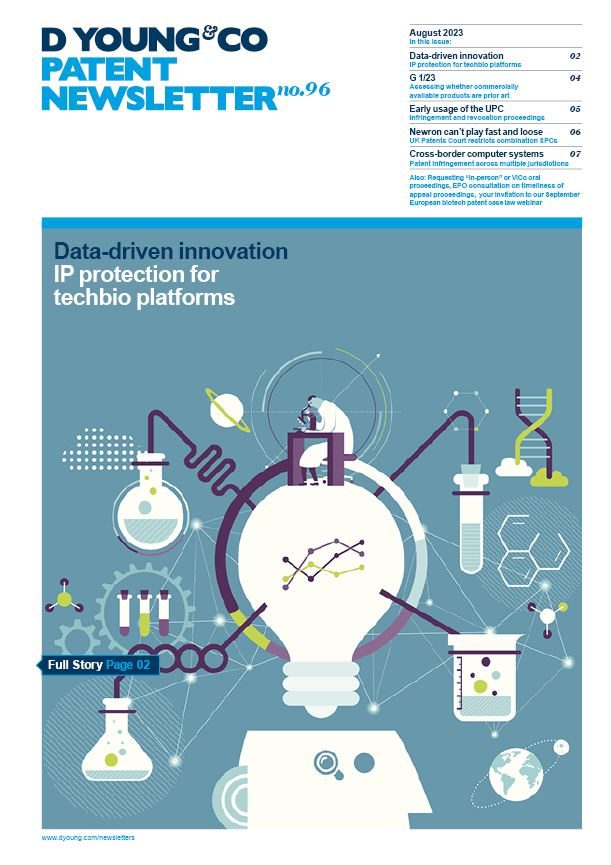 Patent-Newsletter Neueste Ausgabe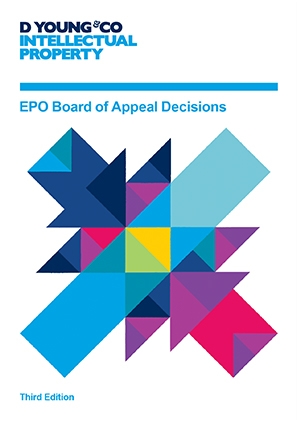 Patent-Buch EPO Board of Appeal Decisions