Where's the beef? Insufficient evidence to support butcher's passing off claim against Lidl
The claimant (PWS), a high-end family butcher in Launceston, Cornwall had traded under the marks PHILIP WARREN and PHILIP WARREN & SON from around 1980, as well as the logo below.
Catch up on this decision by webinar
We've published a short 'bite-sized' webinar about this decision that you can access at a time convenient to you.
View webinar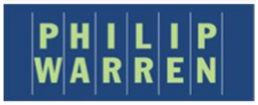 PWS alleged passing off against Lidl based on use of the mark WARREN & SONS in relation to a range of meat products sold between 2015 and 2020.
PWS's business was significant in and around Launceston. It had a very limited online retail business and a significant wholesale business through which it mainly supplied leading restaurants/shops in London and elsewhere (for example, Claridge's and Harrods). Lidl used the WARREN & SONS mark nationwide, including in a Lidl store in Launceston close to PWS.
The evidence indicated that there was some knowledge of (and customers from) PWS outside the immediate local area but neither was very substantial. Attempts at a more precise evaluation of exactly where customers lived were, on the evidence, impossible, because records were not kept of where people who came into the shop were from. Ultimately this was not a critical issue for the case partly because even if there were more customers there was very limited evidence of an overlap between them and those who shopped in Lidl for meat.
The manager with overall responsibility for the Launceston Lidl store gave evidence that the first she heard of PWS was when Lidl's legal department told her about the case. This was considered to be of "some significance" in considering whether there was likely to be much overlap in customers. The judge felt that if even an individual such as this, local to the area and working in food retailing had not heard of PWS, it was unlikely that a significant number of ordinary Lidl customers further afield would. The differences in the product ranges of PWS and Lidl under the WARREN & SONS brand were clear: PWS was very high end, selling unusual and specialist cuts such as rare breeds, with some less expensive products; Lidl was rather inexpensive with a few high-end products. That was reflected in the customer mix, which further supported a finding that outside of Launceston there would be very few Lidl shoppers who would have heard of PWS.
There was some evidence of actual consumer confusion: a consumer email sent to PWS noting its excellent gammon chops that the consumer had purchased in Lidl and asking if there was anywhere else nearby it could purchase the product, and other emails dated between 2016-2019. However, a lot of the evidence of alleged confusion, when examined, showed a good deal of "enquiries-whether" and very limited "assumptions-that", as the judge neatly put it.
Seventeen emails received, when hundreds of millions of Lidl products had been sold, was a very small proportion.
Connections with PWS appeared to have been made from Internet searches by consumers trying to find contact details:
PWS was unknown to them prior to their search.
None of the email authors gave evidence, so it wasn't possible to ascertain the extent to which there was confusion, how it arose or how long-lasting it was.
None of the email authors purchased Lidl products thinking they were PWS's.
These were sporadic and short-lived instances of customers making mistakes and did not indicate that there had been significant consequential damage to PWS's goodwill.
Three of the witnesses of alleged confusion gave oral evidence. The judge dealt with these in some detail because they illustrated the risks of taking evidence of confusion of this kind wholly at face value.
One witness did a Google search for WARREN & SONS and found PWS's website. On contacting them and being told they did not supply Lidl, he said: "This then made sense to me, as having looked at the claimant's website, they seemed to be above supplying a discount supermarket such as Lidl." The witness had apparently reached that view even before PWS confirmed they did not supply Lidl.
Often what appeared to be an assumption of a connection of WARREN & SONS branded products with PWS was much closer to a question whether there might be such a connection, rather than of any genuine deception. Not a single instance of confusion was given in evidence from the Launceston Lidl, less than a mile away from PWS's flagship store and where WARREN & SONS produce was available for years. Although not definitive, given the sheer magnitude of sales and the "optimum" conditions for confusion to arise in that context, the absence of such evidence was more important than it may be in other cases.
There is no reliable way of determining how much confusion there is in such cases. PWS contended that the fact that some consumers had sent emails spontaneously suggested that there may be much more confusion than was reflected in the evidence. Lidl noted that millions of packs of their products had been sold and the fact that there had been so little comment suggested there was very limited confusion. There had also been extensive attempts to identify confusion and only the most limited amount had come to light. The court felt these points had real substance.
A passing off claimant must in general show that it has sufficient goodwill likely to suffer substantial damage as a result of the defendant's use of the mark in question. The alleged misrepresentation must have deceived or be likely to deceive; and the claimant must be likely to suffer damage by such deception. Mere confusion which does not lead to a sale is not sufficient, but it is sufficient that the defendant misrepresents its goods in such a way that it is a reasonably foreseeable consequence of the misrepresentation that the claimant's business or goodwill will be damaged.
There is a distinction which is often difficult to draw in practice between deception and "mere confusion". Previous case law (such as Reed Executive plc v Reed Business Information Ltd) suggests that the distinction lies in the difference between an assumption made by the relevant public and the public merely wondering whether there is a connection. The court agreed with this, both having significantly different consequences for a claimant's goodwill.
Importantly, any misrepresentation must be more than transitory and likely to be operative. It is not sufficient that a purchaser may be misled or caused to wonder whether there is a connection with another trader initially, but that misunderstanding (or question mark) is dispelled before any material step is taken. It is also not necessarily enough if a defendant's actions cause limited and/or temporary confusion.
PWS alleged that Lidl's actions justified a financial award running into tens of millions of pounds (use had already ceased). A claim of that nature and magnitude must be based on comprehensive, solid and cogent evidence. While it cannot be too critical of passing off evidence, given the difficulties in obtaining such, there comes a point when it is so limited or equivocal that the court is reduced to speculation as to what might be in consumers' minds.
The court concluded overall that, while PWS had considerable goodwill in Launceston and the surrounding area, and in the high-end wholesale trade, and notwithstanding similarities in the respective marks, it had not been proved that Lidl's use of WARREN & SONS constituted passing off.
Put simply, there was insufficient evidence of a significant level of operative misrepresentation to any category of PWS's customers.
The take-home message for brand owners is clear: be sure to register your trade marks. In the absence of a registration, a UK trader is left to rely on the law of passing off. As this case confirms, such a claim can be very difficult to sustain, even when there has been some evidence of actual confusion.

Case details at a glance
Jurisdiction: England & Wales
Decision level: High Court
Parties: Philip Warren & Son Ltd v Lidl Great Britain Ltd & Ors
Date: 30 April 2021
Citation: [2021] EWHC 1097 (Ch)
Read the full decision