German lawyer joins D Young & Co Munich office
Leading European intellectual property firm, D Young & Co LLP, has today announced the appointment of Dr Uli Foerstl as a partner at the firm's Munich office.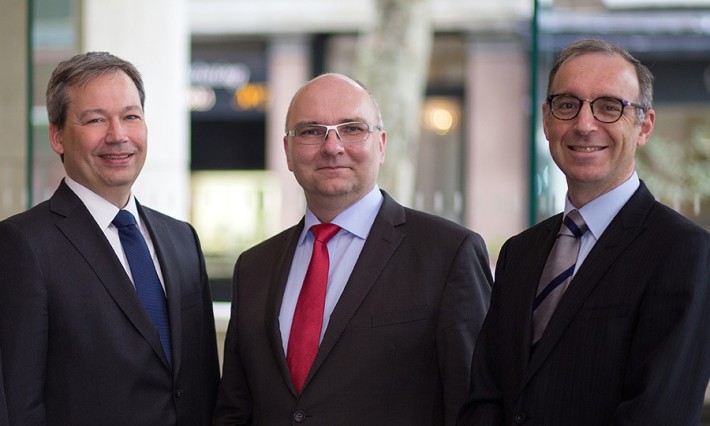 Uli is an IP litigator who brings a wealth of experience including extensive cross-border litigation expertise. His recruitment represents a significant step in the development of our presence in Germany.
The hiring of Uli Foerstl follows the recent recruitment of Dr Hanns-Juergen Grosse (pictured middle, above) as a partner in the firm's European patent practice in January of this year. Uli and Hanns will together spearhead the growth of D Young & Co's business in Germany.
Uli is a German qualified lawyer (Rechtsanwalt) and bar certified expert in IP law (Fachanwalt für gewerblichen Rechtsschutz). He represents a broad range of national and international clients in the relevant German infringement courts in first instance and appellate proceedings, the German Federal Patent Court, the German Patent and Trademark Office, the European Union Intellectual Property Office (EUIPO), the European Patent Office (EPO) and the Court of Justice of the European Union (CJEU), as well as before national and international arbitration tribunals.
Uli also acts as a domain name arbitrator for the arbitration tribunal of the Czech Chamber of Commerce in Prague and advises clients in all non-contentious IP matters, including joint ventures, R&D agreements and tech transfer contracts.
Furthermore, Uli continues to advise clients in a variety of technologies and sectors which include gaming, telecommunications, media, life sciences, fashion, consumer goods and services, all of which are aligned to D Young & Co's existing patent, trade mark and legal practice areas.
Neil Nachshen, D Young & Co Chair, pictured above right, comments:
Uli is an excellent fit with our team of IP litigators. Our goal is to continue investing into the growth of our firm, to service our clients' global needs for innovative IP protection and enforcement.
Prior to joining D Young & Co, Uli was a partner in Olswang's IP group based in Munich.
Notes to editors
For more information, please contact Rachel Daniels, Marketing Communications Manager: rjd@dyoung.com or 020 7269 8550.
About D Young & Co LLP
D Young & Co is a leading intellectual property law firm with offices in London, Munich and Southampton. Clients are diverse and international, including academic institutions, blue-chip and global organisations, research institutes, start-up companies and SMEs, and spanning all industry sectors and technologies. The firm is ranked as a top tier IP firm by The Legal 500, Chambers UK, World Trade Mark Review (WTR 1000), IAM Patent 1000 and Managing IP. The firm's solicitors are highlighted by Super Lawyers as IP Super Lawyers in the UK.