Larsson strikes again: UKIPO deems LARSSON mark to be invalid
Celtic legend Henrik Larsson has successfully had a LARSSON mark declared invalid on the grounds of passing off.
The LARSSON mark (shown below) was registered by Mr James Dear, covering approximately 3,500 clothing-related goods in class 25. Henrik Larsson, a Celtic Football Club legend who also had stints at Barcelona and Manchester United, applied for a declaration of invalidity of the LARSSON Mark on the grounds of passing off and bad faith.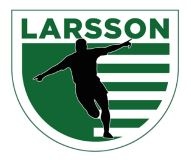 Passing off
Whilst Mr Larsson's argument that the retail of various memorabilia bearing his name and image demonstrated goodwill failed, his exceptional career at Celtic and time spent as an ITV pundit contributed to the hearing officer finding that he held goodwill in his name in relation football, and by extension, football-related clothing.

In arguing against any misrepresentation, Mr Dear sought to rely on "Larsson" being a common surname in the UK. The hearing officer not only disagreed with this but also pointed out that Mr Dear had in fact contacted Mr Larsson before filing the LARSSON mark, which itself demonstrated his intention to exploit the name. Hence, there could be no argument of coincidence in using the LARSSON name. This, coupled with the LARSSON mark giving the overall impression of Mr Larsson scoring a goal, led to the finding of misrepresentation on the part of Mr Dear.

Damage to Mr Larsson was found to follow as a direct consequence of the misrepresentation. Hence, all three heads of the passing off ground were established and the ground succeeded in relation to football-related clothing (which formed approximately sixty percent of the original list of goods).
Bad faith
Mr Larsson argued Mr Dear had no intention of using the marks on three different grounds:
1. Overly broad specification
Over 3,500 terms were listed in the specification of the LARSSON mark, which, together with the fact that Mr Dear transferred the LARSSON mark to a dormant company when made aware of the opposition proceedings, Mr Larsson argued showed a lack of intention to use the LARSSON mark in relation to the listed goods.
While finding that this was insufficient to demonstrate a prima facie case of bad faith, the hearing officer suspended their decision on this point pending the Supreme Court's judgment in SkyKick UK Ltd and another v Sky Ltd and others.
2. Stockpiling
Mr Larsson argued that as the proprietor of other trade mark registrations incorporating the names of famous sportspersons Mr Dear's company was stockpiling marks. This ground was, however, robustly rejected.
3. Opportunistic blocking/squatting
Despite initially claiming that Mr Dear contacted him offering to let him pay to acquire rights afforded by the registration, Mr Larsson later stated that Mr Dear had in fact offered him a percentage of sales if he agreed to the exploitation of his name. Taking this inconsistency into account, the hearing officer rejected this ground.
Award of costs
In this instance, the hearing officer considered Mr Dear's behaviour to be exceptional enough to warrant awarding off-scale costs on a compensatory, rather than contributory, basis. Some of the factors taken into account in reaching this decision include:
Mr Dear's unnecessarily high volume of disorderly correspondence and the subsequent work this created for Mr Larsson's representatives and the tribunal.
Mr Dear's refusal to comply with a disclosure order made in relation to his prior contact with Mr Larsson.
The disrespectful tone used by Mr Dear in much of his correspondence, for example describing the UK Intellectual Property Office (UKIPO) as "a law unto itself...acting against my company and my trade marks".
Litigants in person
It is worth noting that, while awarding off-scale costs against Mr Dear for his conduct, the hearing officer highlighted the unfairness of inconsistencies between Mr Larsson's written submissions, pleadings and skeleton arguments, as to the number of headings under which the bad faith claim was brought. The purpose of this was to emphasise the particular importance of represented parties being clear and consistent with their pleadings, particularly when acting adverse to litigants in person.
Conclusion
This opposition highlights various points that represented parties must have in mind when the other side is a litigant in person. Not only should they be prepared to deal with the unconventional but they should also be aware of the potential impact this has on cost awards.
Case details at a glance
Jurisdiction: United Kingdom
Decision level: UKIPO
Parties: Henrik Larsson v Global Trademark Services Limited
Citation: O/0872/23
Date: 14 September 2023
View decision