A sporting chance for footwear manufacturers: Deichmann v EUIPO
This case gives some positive news on acceptance of applications for signs that are applied to sports footwear.
Background
Munich SL applied to register the below figurative mark in class 25 for sports footwear and the mark was registered in 2004.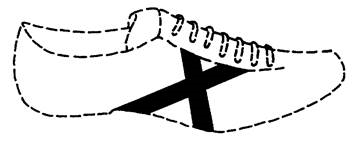 Deichmann SE filed an application for a declaration of invalidity against the registration in 2011 and the action was rejected at the first two levels; the Fourth Board of Appeal agreed with the decision of the Cancellation Division that simple patterns on the side of shoes are now commonly used to indicate origin and this had been confirmed in the evidence filed by Deichmann.
Unfortunately for Deichmann, the evidence it had filed to support its contention that crossed lines were common and therefore non-distinctive was used by Munich to support its view that crossed lines were distinctive.
Munich also pointed out that Deichmann itself owned a registration of a figurative mark (below) which includes two lines/stripes on the side of a sports shoe which did not work in Deichmann's favour.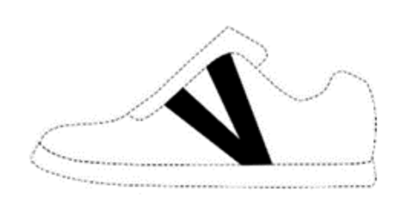 It was agreed by all levels that the evidence that had been put forward by Deichmann could not show that the mark applied for was devoid of distinctive character and the appeal to the General Court failed, giving positive news for manufacturers of sports footwear and for protection of the external and significant features of that footwear.
Case details at a glance
Jurisdiction: European Union
Decision level: General Court
Parties: Deichmann SE, EUIPO and Munich SL
Date: 04 May 2022
Citation: T-117/21
Link to decision: https://dycip.com/deichmann-munich