Banksy's "Flower Bomber" EUTM declared invalid on grounds of bad faith
In invalidating the EUTM for Banksy's "Flower Bomber" street art (below), registered in respect of goods including printed matter such as stationery and posters in class 16, the EUIPO Cancellation Division applied the recent CJEU decision in Sky v Skykick (C-371/18) as to the circumstances when "bad faith" may apply, including: "where it is apparent ... that the proprietor of a trade mark has filed the application for registration...with the intention of obtaining...an exclusive right for purposes other than those falling within the functions of a trade mark, in particular the essential function of indicating origin."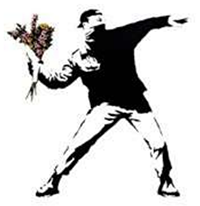 In the present case, the EUIPO found that the EUTM had been filed in order for Banksy to have legal rights over the sign as he could not rely on copyright rights without compromising his anonymity. This, however, was not a function of a trade mark.
Banksy's subsequent use, which did not commence until after the application for invalidity had already been filed, "was not to use the trade mark to commercialise goods and carve out a portion of the relevant market, but only to circumvent the laws." The EUIPO held that these actions were inconsistent with honest practices.
One suspects that the proprietor's arguments against invalidation were not assisted by some of the evidence before the Cancellation Division, which included a statement, accredited to Banksy himself, that the motivation for his sale of goods bearing the mark was "possibly the least poetic reason to even make some art – a trade mark dispute".
Banksy was also quoted as having said that "for the past few months I've been making stuff for the sole purpose of fulfilling trade mark categories under EU law" and that the subject matter was "not a very sexy muse".
It will be interesting to see whether the trade mark proprietor, Pest Control Office Limited (the entity that deals with Banksy's matters), files an appeal against the decision. The applicant for invalidity, Full Colour Black Limited, produces numerous greetings cards featuring graffiti and may well seek to launch similar attacks on other EUTMs relating to different Banksy works.
We note, further, that Pest Control Office Limited filed a new EUTM application for the "Flower Bomber", which proceeded to registration in May 2020 and was filed after the commencement of Banksy's use of the mark. Whether Full Colour Black Limited will challenge this latter mark, and whether the outcome will be any different, remains to be seen.

Case details at a glance
Jurisdiction: European Union
Decision level: EUIPO Cancellation Division
Parties: Full Colour Black Limited v Pest Control Office Limited
Date: 14 September 2020

Full decision - cancellation No. 33 843 C (invalidity)
Read more