Enterprise and Europcar fight over use of 'e'
A recent decision from the High Court has provided detailed insight to the relevant public assessment for cases where foreign consumers outside the UK should be given 'cautious' consideration.
Enterprise and Europcar are well known heavy weight rivals in the car rental market worldwide, with both parties respectively sharing a sizeable 30% and 26% share of the UK car rental market. This High Court case brings Enterprise and Europcar to over 98 ongoing trade mark disputes worldwide. The present case saw both parties present a wealth of evidence, including over 30 trial bundles, 10 or more witnesses and survey evidence - a point which did not escape Justice Arnold's firm recommendation that the parties are well advised to finally settle their differences on a global basis.
This case centred around Europcar's adoption in 2012 of an 'e' logo (e-moving logo), which gave concern to Enterprise on the basis of the similarity to their 'e' logo (e logo), which has been used on its own and as part of the main corporate logo since 1994 in the UK.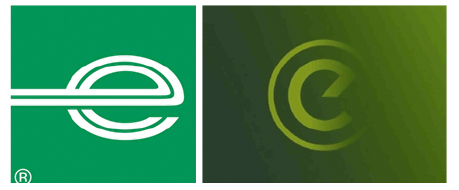 Enterprise claimed that Europcar's use of the e-moving logo in three forms (on its own, with descriptive terms, or with the Europcar name) would lead to a likelihood of confusion, take advantage of Enterprise's repute and be detrimental to the distinctive character of Enterprise's earlier rights, as well as amounting to passing off.
Justice Arnold set out a thorough and detailed assessment of all factors of the case. Of particular interest were the following points.
Relevant public
As UK vehicle rental services are used by overseas nationals, Justice Arnold felt it was necessary to consider whether the average consumer in this case should take into account the perception of residents in foreign countries. Despite the fact the vehicles were received, driven and returned within the UK, due to the transnational nature of the car rental market and diverse nationalities living in the UK, Justice Arnold found that it would be "artificial and wrong" to exclude the perception of customers of vehicle rental services who are resident abroad. However, he advised that the court should treat this part of the relevant public with caution since it was inevitably harder for the court to put itself in the position of such consumers.
With regard to the average consumer's level of attention, Justice Arnold found it was "more realistic and preferable" to recognise that consumers in the field of vehicle rental services have varying levels of attention due to their different genders, age, social group, ethnicity and country of residence.
Likelihood of confusion - context of use
Justice Arnold confirmed that the context of use could reduce the likelihood of confusion and, in such circumstances where two competitors used similar names (in this case both of similar length and beginning with the letter 'e') and the same coloured logo and corporate livery, it was possible for there to be an existing "undercurrent of confusion". However, contrary to Enterprise's assertions, Justice Arnold found this did not mean that Europcar were under any special obligation to avoid exacerbating the risk of confusion.
Unfair advantage – competitive context
Enterprise relied on the recent Jack Wills case, which they felt was parallel to this present matter. However, Justice Arnold disagreed, finding the competitive context to differ between the two cases. As a leading player in the same market sector as Enterprise, Europcar is not a "retailer trying to boost sales by adopting a feature of branded goods". It was therefore found that Europcar's use did not take advantage of the distinctive character or repute of Enterprise's e logo, nor unfair advantage.
Survey evidence criticism
Various criticisms were raised to survey evidence submitted by Enterprise and eventually the survey results did not provide much weight to the proceedings. Justice Arnold stated that without the survey evidence he would still have concluded that Enterprise's e logo had enhanced distinctive character. However, if we look to Justice Arnold's assessment of Europcar's criticisms, the following points are of interest:
Surveys which involve stopping people in the street and asking questions in response to a stimulus should be treated with caution. This does not mean surveys conducted in this manner cannot be relied upon.
Surveys conducted after the relevant date (ie, when the third party starts use of the conflicting sign) were found to be almost inevitable. That in itself does not mean surveys cannot shed light on the position at the relevant date, assuming there has been no material change in circumstances during that time. Further, a timespan between each survey being conducted should not give reason to think the results of separate surveys would be materially different.
It is reasonable for surveys not to centre solely on the relevant class of person. It is preferable to design surveys such that they include both those who are knowledgeable of the relevant market and those who are not. This would favour the other party's position (in this case Europcar).
It is not necessary to include a control sample as these do not necessarily assist the court. There is also no requirement for an opinion of the survey results to be provided, as the court will undertake this.
The surveys did not show that consumers relied on Enterprise's e logo as a badge of origin, but they did show that a significant percentage of the relevant class of persons recognised the logo and associated it with Enterprise. Given in this case it was a logo (rather than a shape or other characteristic of a product or service) and that it had clearly been used as a trade mark, there was no reason to think that the surveys did not amount to evidence of distinctiveness.
Justice Arnold concluded that the marks only had a low degree of similarity which pointed away from a likelihood of confusion. The three separate types of use made by Europcar was another factor that could have reduced the likelihood of confusion to varying degrees. However on the basis of the evidence submitted of actual confusion, it was found that there was a likelihood of confusion for each of the three types of use complained of. The judge commented that he would have hesitated to reach the same conclusion regarding use of the e-moving logo with descriptive terms or the EUROPCAR name, if no evidence of actual confusion had been shown. Based on the findings of reputation, enhanced distinctiveness and likelihood of confusion, the claim for passing off was also successful.
In short
Despite services being provided in the UK, consideration should still be given to the relevant public who use the services and are resident outside of the UK.
In assessment of a likelihood of confusion it is necessary to consider the context of use made.
If two parties are both market leaders in the same market sector this would lessen the perception that unfair advantage was gained.
It is reasonable for survey evidence to be conducted after the relevant date and desirable that it includes both respondents who are knowledgeable of the relevant market and those who are not.
Case details at a glance
Jurisdiction: England and Wales
Court: High Court of England and Wales
Parties: Enterprise Holdings Inc v Europcar Group UK Limited and Europcar International SASU
Citation: [2015] EWHC 17 (Ch)
Dates: 8-12, 18 December 2014
Full decision: dycip.com/2015ewhc17