20 years at the top! D Young & Co "prolific & effective": Legal 500 UK 2021
We are delighted to celebrate news that our patent and trade mark attorney teams have been ranked as top tier in the Legal 500 rankings for the 20th consecutive year.
We are very grateful to our clients and peers who participated in the Legal 500's research. Client testimonials include the following comments:
"I have worked with D Young & Co for over 15 years. Prior to this I worked with other firms in three different continents, and none of them come close to the professionalism and dedication of D Young & Co."
"D Young & Co have carried on providing their first-rate service with great success."
"The partners are extremely knowledgeable and the most competent patent attorneys I have ever met."
"They are very responsive and efficient and understand clients' needs well. They give us access to efficient collaborative tools which make it easier to handle international cases."
"They produce high-quality, reliable work product and have expertise in the computer-related technology space."
"The team are both approachable and knowledgeable, and skilled at turning our sometimes nebulous ideas into tangible intellectual property. They can be relied on to complete work to sometimes tight deadlines, and are creative at approaching sometimes difficult areas."
"They have a problem-solving and cost-effective approach, which always satisfies the client."
"Great attention to detail and absolutely focused on achieving the client's objectives."
"The team is very responsive and easy to work with. They also grant us access to collaborative tools to share documents which are highly effective in huge litigations."
Legal 500 writes:
PATMA: PATENT ATTORNEYS TIER 1
The team at D Young & Co LLP stands out for its long relationships with high-profile clients, its prolific and effective EPO opposition and appeals practice, especially in the life sciences, and its wide-ranging practice, which includes engineering, mechanics, electronics and IT expertise as well as chemistry, pharmaceutical and biotechnology-related work. The group acts for large multinationals, academic institutions and research institutions.
The offices in London and Southampton frequently work with the Munich office on cross-border matters to offer clients the patent benefits of both jurisdictions, both in prosecution and in litigation, thanks to the firm's German and British litigators. London-based Kirk Gallagher and Anthony Albutt direct the practice, which now includes former Vodafone in-house counsel Bénédicte Moulin in London and four new partners with the promotions of Rachel Bateman and Tamara Milton, both in the London office, and Cathrine McGowan and Alan Boyd in Southampton.
PATMA: TRADE MARK ATTORNEYS TIER 1
D Young & Co LLP remains one of the most successful practices in the market, achieving significant growth through its client commitment and the breadth and quality of its services. The group excels in contentious and non-contentious matters and offers a combined team of trade mark attorneys and solicitors, as well as a well-staffed office in Munich. Opposition and appeal proceedings before the EUIPO, the UKIPO and the DPMA are an area of particular strength. The luxury, fashion, pharmaceutical and cosmetics, food and drinks, entertainment and sports, and household products sectors are the firm's mainstays, but the team's experience covers a much wider sector range. Practice heads Jeremy Pennant, who splits his time between London and Southampton, and Tamsin Holman, a solicitor who operates from the London and Munich offices, are key contacts.
INTELLECTUAL PROPERTY: TRADE MARKS, COPYRIGHT AND DESIGN TIER 4
Intellectual property firm D Young & Co LLP is a growing name in the field of IP litigation, alongside its top-rated filing and prosecution offering. Indicative matters include co-head Tamsin Holman's defence of noteworthy gaming and clothing brands in trade mark and design infringement disputes and co-head Jeremy Pennant's advancement of infringement proceedings on behalf of global food and drink corporates. Helen Cawley is the key name for oppositions and cancellation actions before the UKIPO and EUIPO.
INTELLECTUAL PROPERTY: PATENTS (CONTENTIOUS AND NON-CONTENTIOUS) TIER 5
D Young & Co LLP provides patent litigation representation alongside its top-tier drafting and prosecution services. The firm handles routine opposition defence before the EPO, such as co-head Anthony Albutt's long-running defence of Nestlé's liquid coffee pods. Co-head Kirk Gallagher provides opposition defence in the life sciences sector. Antony Craggs and Garreth Duncan recently initiated revocation proceedings in the English Patent Court concerning pesticides and other crop protection products.

The Legal 500 UK 2021
Link to view the full Legal 500 2021 entry for D Young & Co LLP.
Read more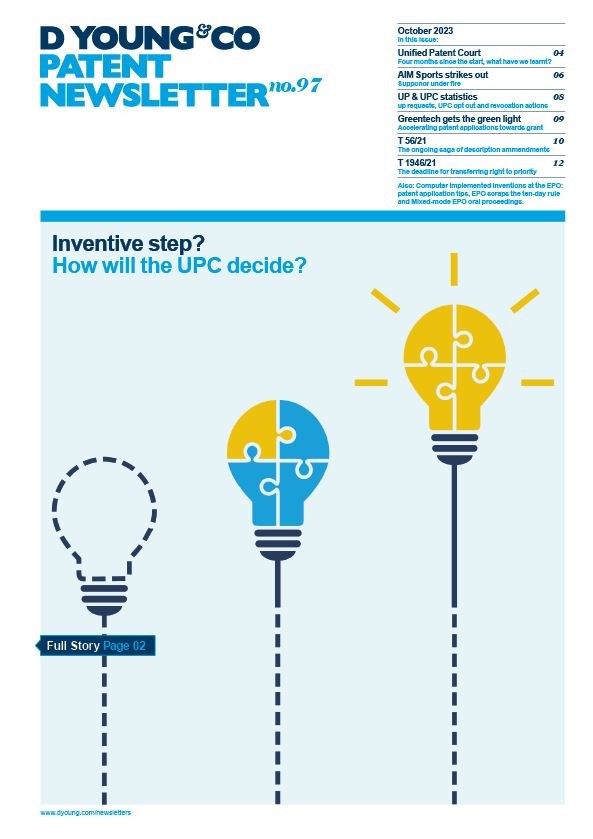 Patent-Newsletter Neueste Ausgabe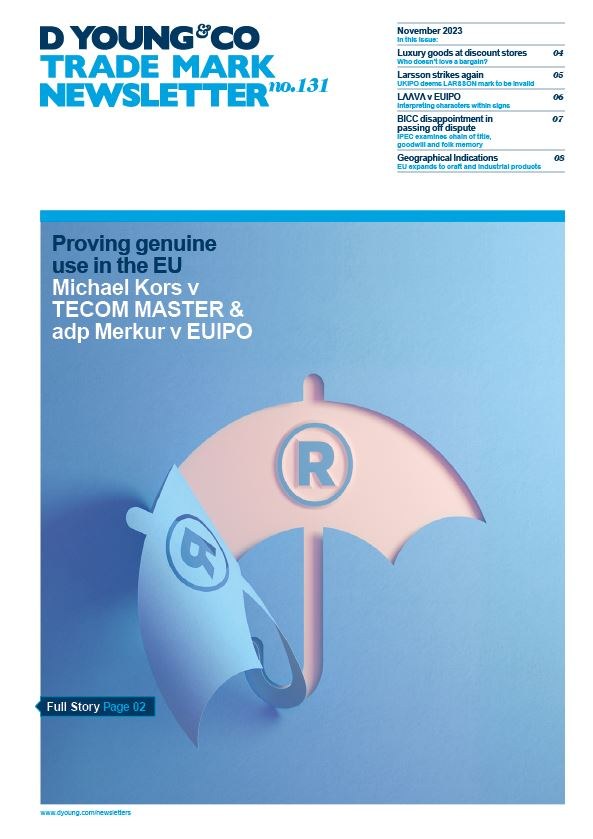 TM-Newsletter Neueste Ausgabe