WTR 1000 Gold ranking for "leading European IP setup" D Young & Co
WTR 1000 have again ranked D Young & Co as a top tier (Gold) UK trade mark firm: "Leading European IP setup D Young & Co is in fine health...the ensemble again garnered some of the most enthusiastic feedback of any UK firm".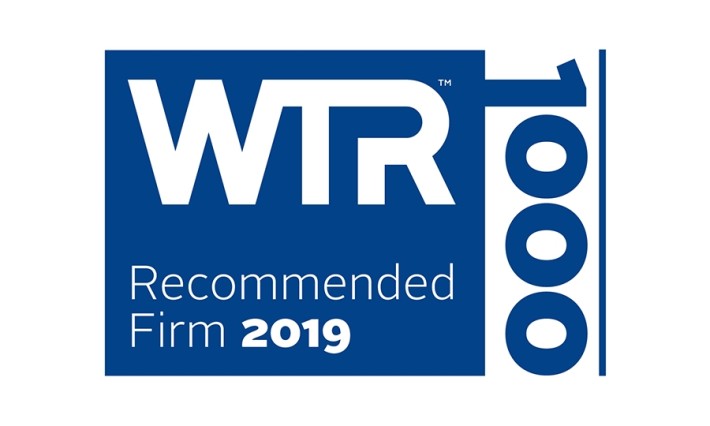 We are grateful to our clients and associates who contributed to the WTR 1000 research. WTR 1000 writes that "when identifying the leading firms, factors such as depth of expertise, market presence and the level of work on which they are typically instructed were all taken into account, alongside positive peer and client feedback."
D Young & Co WTR 1000 - Gold
The WTR 1000 writes:
Leading European IP setup D Young & Co is in fine health as demonstrated by growth in its dispute resolution group via lateral hires in Munich and London; promotions to the partnership; and many new high-profile clients. Consistent with previous years of WTR 1000 research, for 2019 the ensemble again garnered some of the most enthusiastic feedback of any UK firm.
"Seasoned litigator" Tamsin Holman "is a pleasure to deal with – she is extremely accommodating and her service is excellent. She deals with difficult cases easily and her approach and methods allow for seamless communication and decision making." Working closely alongside her is newly minted partner Anna Reid, who makes her debut in the rankings with style: "She can hold the fold on large and complex matters and is an excellent writer whose legal analysis of issues is always spot on. She provides you with everything you need to make informed decisions – likelihood of success, potential pitfalls and accurate cost estimations." The two recently linked up to represent Marriott International in an appeal from a decision of the EUIPO Board of Appeal to the General Court of the European Union; the case involved an invalidation action on relative grounds, one of the grounds being based on copyright law, which is rarely relied on at that level.
Matthew Dick also runs a vibrant litigation and enforcement practice within his broader strategic counselling remit. "Matt is entirely dependable and acts like an extension of your business team. His advice is prompt, practical and cost-effective and takes into account not just the law but commercial practicalities too. Smart, friendly and witty, he's a pleasure to work with on a personal level."
Like Dick, Jeremy Pennant is recommended for both prosecution and litigation. "Jeremy is highly cost-efficient and business focused – he resolves complex matters in a manner that is most beneficial to his clients without much hassle or expense." His assured leadership is instrumental to D Young's "reliably outstanding performance".
Highly skilled in all areas of trademark practice, Gemma Kirkland is one of the best when it comes to oppositions. "Gemma is incredibly supportive and just extremely helpful all round. Her advice is well-considered and balanced, reflecting her deep expertise and experience." She sees things through her clients' eyes having gained in-house experience at BP.
Helen Cawley also boasts in-house experience on her résumé and specialises in contentious administrative proceedings. "She provides consistently excellent advice on matters from initial registration to conflict resolution and can be recommended without hesitation."
Jackie Johnson is yet another fail-safe option if watertight trademark protection is required. Her many recent successes include a cancellation action for Duracell Batteries and an opposition for Sky UK Limited.

WTR 1000 2019
View the WTR 1000 2019 rankings in full at the World Trademark Review website.
Read more