UKIPO corporate plan 2021-2022 - creating a world-leading IP environment
On Thursday 20 May 2021, the UK Intellectual Property Office announced its corporate plan for 2021-2022. The plan outlines how the UKIPO will provide IP services in a national and international framework to support world-leading innovation and creativity. It represents the fourth step in the IPO Strategy 2018-2021, and attempts to address the impact that the Covid-19 pandemic has had on the UKIPO and IP.
Here, we provide a brief overview and some comments on the plan.
Aims and priorities
The plan aims to "provide excellent IP services, create a world-leading IP environment, and make the IPO a brilliant place to work". Four key priorities form the backbone:
Transform services and provide a modern, efficient, customer experience;
Provide high quality IP services;
Increase external impact and futureproof the IP framework; and
Embed the "One IPO" culture.
These priorities are apparently dependent on the continuing Covid-19 situation, and may be revised as necessary.
The plan outlines an extensive set of activities under several subheadings, such as transformation, delivery of excellent services, increasing impact of IP, reducing IP crime, and the UKIPO as a "brilliant" workplace. We noted the following with particular interest.
Estimations of post-Covid-19 and post-Brexit growth
The plan acknowledges the economic shock caused by Covid-19 and suggests that IP will enable creative and technological industries to confidently deliver economic growth. Applications for IP rights are predicted to increase by around 25%, though the plan itself acknowledges such increases are difficult to accurately predict.
It will be interesting to see whether this predicted growth is an accurate estimate over the coming year, and what impact Covid-19 and Brexit ultimately have on intellectual property in the UK.
Plans relating to the "One IPO" transformation
The One IPO programme launched earlier this year, and 2021-2022 will see the delivery phase of this programme being initiated. Plans include the design and build of new tools including the "User Account" and "Manage IP Services", which will allow online access and management of patent rights.
We are very much looking forward to these changes, as we believe it will offer greater flexibility and visibility for our clients.
Recommendations on AI
The UKIPO will consult on changes to IP law and develop a strategy designed to meet the challenges and opportunities presented by artificial intelligence (AI). This will take forward actions from the AI call for views (completed in 2020-2021), and recommendations will be presented to ministers by Quarter 4 (Q4) of 2021-2022.
We look forward to the future publication of these recommendations and being able to provide clarity to our clients, many of whom we know are working in this area.
The UKIPO also intends to implement AI into its own practices.
IP crime and enforcement
A five year "Enforcement Strategy" will be published, focusing on improving enforcement of rights and making IP crime socially unacceptable. Relevant data will be shared with partners such as the Police National Database to amplify impact on infringement.
Green targets/hybrid working
The UKIPO will work with the new "Greening Government Commitments" and develop an action plan to deliver the UK Government's "Net Zero Strategy" by Quarter 3.
We suspect that this action plan may feature the planned hybrid-working model of office and remote working of the UKIPO. Such hybrid working will likely reduce commuting and contribute to a reduction in commuting and office-related impacts on the environment.
Wellbeing
As part of the plan, the UKIPO highlights its commitment to improving mental and physical wellbeing of its people and indicates that it will continue to provide access to counselling and mental health resources. These are important issues, especially in light of the impact of the pandemic, and it is good to see such issues being incorporated into long-term plans by a key organisation in the industry.
If you have any questions about the UKIPO corporate plan 2021-2022, please contact your usual D Young & Co representative.
UKIPO One IPO Transformation Programme
Read more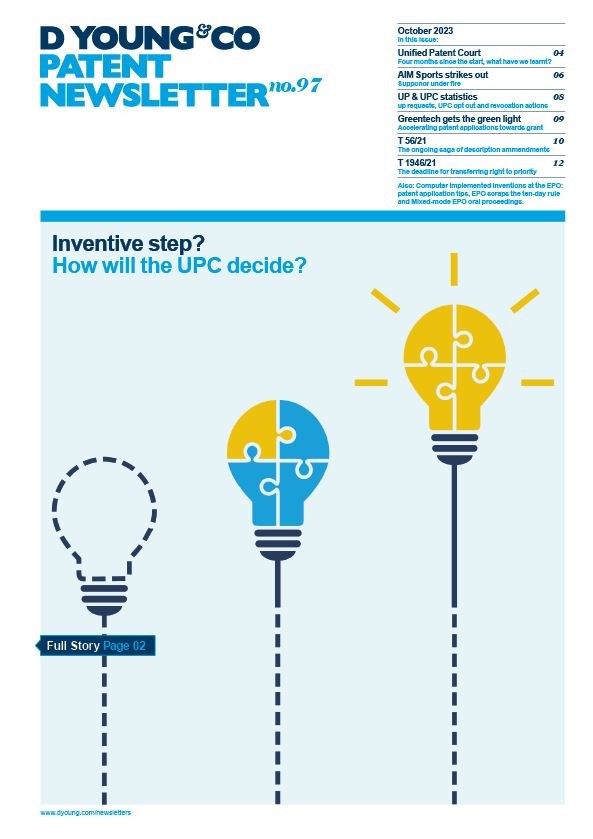 Patent-Newsletter Neueste Ausgabe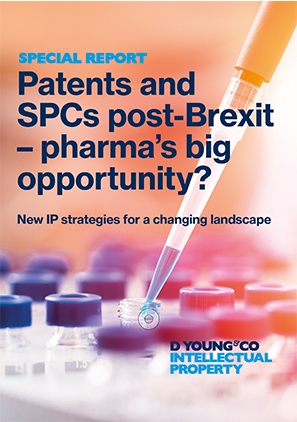 Special Report Patents and SPCs post-Brexit - pharma's big opportunity?