Launch of the UKIPO One IPO transformation programme
On Friday 22 April the UK Intellectual Property Office (UKIPO) launched its One IPO transformation programme. The One IPO programme is a five-year project to modernise and integrate intellectual property rights in the UK.
Currently, UK registered IP rights (patents, trade marks and designs) are administered under separate systems. However, the UKIPO has acknowledged that this may not meet the needs of its customers, who will often be interested in more than one type of IP right. The One IPO programme will therefore bring all registered rights under a single system so that these rights can be applied for, managed and researched in one place.
Not only will these services be integrated but they will be updated for implementation using modern digital technology.
Here we provide an overview of the One IPO project.
Aims
The overall aim is for more modern, flexible, digital services that offer opportunities to explore new services to help the UKIPO customers protect, research and use their IP more effectively.
The project has five central objectives: delivering the best tools to enable people to excel; providing outstanding, customer-focussed services; unleashing the power of data to help drive economic growth; enabling and accelerating UK innovation; and being global IP leaders.
The transformation will bring six key benefits: a single, integrated system for all IP rights; a single online UKIPO account with convenient self-service features for IPO customers; fully digital, quick and easy to use services; enhanced collaboration and real-time advice; ease of researching IP with powerful analytics tools to help search, query, interpret and share UKIPO data; and making the UKIPO a more effective and efficient organisation that provides further benefits to its customers.
Timeline
There will be three phases to the One IPO transformation programme, that will see the new patents service launched in 2024, trade marks in 2025 and designs in 2026.
Phase one will occur between 2021 and 2024, when the Common IP System (CIPS) will be built to integrate all UK registered rights; the patents service will be moved onto this system at the end of phase one.
Phase two will begin in 2021 and be completed in 2026, during which time trade marks and designs will be transitioned to the new and fully digital CIPS.
Phase three, from 2026 onwards, will be an ongoing process of updating the system to provide new and improved services.
Services
The new or transformed services will be grouped under three central tasks: to protect, research, and use IP.
Protect IP will feature four core services: manage, secure, challenge and guidance/training. Manage IP will feature a single customer account where all information for the entire customer's IP will be held and can be updated. Secure IP will feature a fully digital service where patents, trade marks and designed can be applied for and registered. Challenge IP will enable customers to challenge or enforce IPO decisions and registered rights more easily. Guidance and training will be available so that customers can learn how to make the best use of the new Protect IP services.
Research IP will feature three core services: search, analyse and insights to IP. Search IP will allow customers to run search queries on a single public register. Analyse IP will enable customers to analyse IP, export reports and share results. IP Insights will provide access to publications by industry, market or topic.
Use IP relates to a longer term goal of moving beyond helping customers protect ideas to supporting the use and commercialisation of IP. Whilst the One IPO programme is initially focused on implementing the fundamental services described above, once this is achieved to the highest standards the IPO is keen to invest in offering new services.
We are pleased to see this modernisation of the UK IP systems and look forward to the added flexibility and value that it will allow us to offer to our clients.
For more details, visit the UKIPO website, where full details of the One IPO programme and recruitment for user tests of the new services are available.
As ever, if you have any questions about the transformation programme, please contact your usual D Young & Co representative.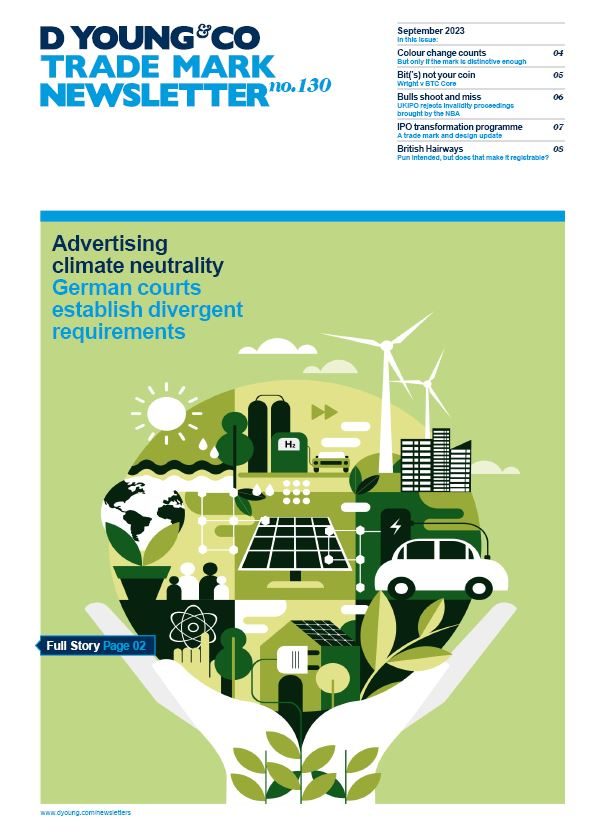 TM-Newsletter Neueste Ausgabe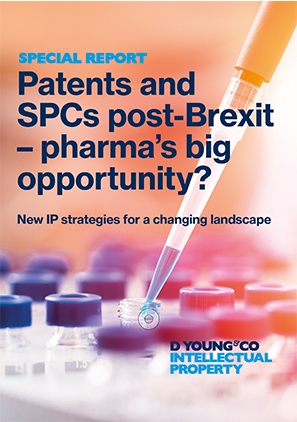 Special Report Patents and SPCs post-Brexit - pharma's big opportunity?