UK High Court has no APPetite for icons that fail to practice "social distancing"
App icons allow mobile users to discriminate between different software. To attain maximum impact in a competitive space, descriptive words are frequently found under the logo. This interplay between trade marks and app icons was at the centre of PlanetArt LLC v Photobox Ltd, a recent trade mark and passing off dispute where the UK High Court considered issues such as descriptive signs and context of use when assessing consumer confusion.
Background

In 2014, PlanetArt launched FreePrints, an app that provides a free photo-printing service for smartphone users. The service is highly successful in the UK, demonstrated by 11.5m downloads by the end of 2019. PlanetArt owns a UK trade mark in respect of its logo, a figurative butterfly on a turquoise background, together with the composite word "FreePrints", shown below (figure 1):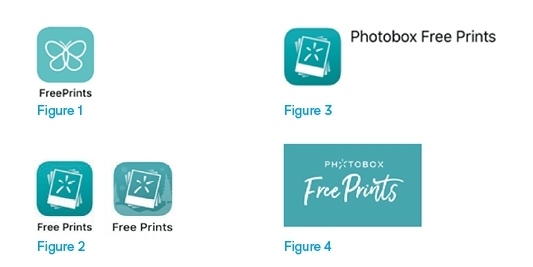 Already an established business, Photobox launched its own free photo-printing service app in April 2019 called "Photobox Free Prints" in order to compete with PlanetArt. Like all apps, it too had app icons (see above, figure 2) an app store icon (see above, figure 3) and a stylised mark for other marketing purposes (see above, figure 4).
PlanetArt issued proceedings for passing off shortly after Photobox's launch. By the time of trial (and after one failed attempt to obtain an interim injunction), it included a trade mark infringement claim based on sections 10(2) and 10(3) of the Trade Marks Act 1994.

The app icons
On the evidence, Daniel Alexander QC, sitting as Deputy Judge of the High Court, found that the FreePrints icon had acquired a secondary meaning through its use, despite the inherently descriptive content. He held there were significant aural and visual similarities between the marks, although aural similarity had lesser importance with regard to phone use. The judge found some limited conceptual similarities, although in context he considered the analysis to be "artificial" as the marks "carry no conceptual content", particularly as they are not so significantly different to other apps. Of relevance was the common practice of placing the app name below the logo, to which the average consumer is likely to give origin-identifying significance. Taken together, Photobox's similarities were sufficient to give rise to a likelihood of confusion.
Following the guidance in Specsavers ([2012] EWCA Civ 24), the judge gave cautious regard to the context of the use of the marks, but there was nothing about it to negate his finding on confusion.
The judge also noted that the court must make its own conclusions on likelihood of confusion in absence of evidence of actual confusion. He noted that this was a case of "post-sale confusion", where consumers would not experience any operative confusion until after the icon is downloaded and therefore would not lead to a change in consumer behaviour.
App store icon and stylised mark
With regard to Photobox's other icons, the judge held there was no likelihood of confusion. Applying similar logic, the prominent positioning of the word PHOTOBOX would impact the average consumer's perception of the marks, placing more significance on origin-denoting parts rather than descriptive elements (FREE PRINTS).
No passing off
Despite finding that PlanetArt had goodwill in the FreePrints mark, the judge held there was no misrepresentation by Photobox. It was relevant that the term FREE PRINTS was never absent of the identifying word PHOTOBOX at the point of download. As discussed above, there was no chance of operative confusion in the icon after download.
It was also relevant that no evidence of actual confusion was uncovered, despite ample opportunity for it to come to light.
Comment
In a reflection of the zeitgeist, the judge invited Photobox to look carefully at its branding and consider further changes to anything that might be best described as "anti-social non-distancing".
He also warned PlanetArt to give broad latitude to traders using the genuinely descriptive phrase FREE PRINTS, giving the impression that the issues were finely balanced against a background where descriptive words are frequently used together with app logos.
There is a certain appeal in using the limited space under an icon to convey an instant message to users about what service to expect. Although this case was successful for the claimant and shows the power of a registered trade mark, it comes with a health warning that descriptive words are usually the bane of a trade mark and, if used, should be factored in carefully to any branding strategy.
Case details at a glance
Jurisdiction: England & Wales
Decision level: High Court
Parties: PlanetArt LLC & PlanetArt Limited v Photobox Limited & Photobox Free Prints Limited
Date: 25 March 2020
Citation: [2020] EWHC 713 (Ch)
Link to decision