Pink Punches: Thomas Pink v Victoria's Secret
Thomas Pink has recently won a case in the High Court against Victoria's Secret, in relation to the latter's use of their "PINK" sub-brand in Europe. The two companies are not new to battle with each other, and this decision provides a useful overview of trade mark law and an insight into its application in various examples of alleged infringement.
The Thomas Pink brand
Having started trading in 1984, Thomas Pink's business primarily concerns professional business dress; including shirts, suits and other accessories and clothing. All of its goods are sold under the names "Thomas Pink" and "PINK". These brands were protected by the following trade marks: a Community trade mark (CTM) filed in 2004 and a UK trade mark (covering a series of two marks) filed in 2010. The marks covered classes such as clothing, footwear and headgear and retail services.
Thomas Pink Community trade mark (filed 2004) and UK trade mark (filed 2010).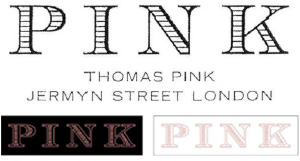 The Victoria's Secret sub-brand
Victoria's Secret is historically based in the US, having originally launched in the 1970s. However, it is now a global brand and in 2012 the company expanded into Europe, with its first store on London's Bond Street. In 2004, Victoria's Secret launched a sub-brand "PINK" which was aimed at the stereotypical 'college girl' and the range included lingerie, nightwear/swimwear and casual clothing.
The "PINK" sub-brand was part of Victoria's Secret's 2012 launch into Europe. Indeed, as well as Victoria's Secret stores, standalone "PINK" shops were also opened. Products included t-shirts, sweatshirts and trousers as well as other accessories and apparel. Whilst all of the range included "Victoria's Secret" somewhere on the product (including on the neck label or swing tag), much of the branding/design used "PINK" prominently and alone.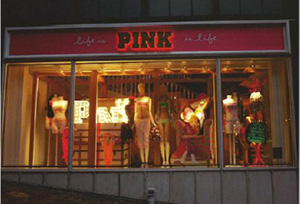 The claim
In light of the above, Thomas Pink commenced proceedings against Victoria's Secret for passing off and trade mark infringement under sections 10(2) and 10(3) Trade Marks Act 1994 (TMA), and the equivalent European law in relation to the CTM (being Articles 9(1)(b) and 9(1)(c) of the Community Trade Mark Regulation 207/2009/EC (CTMR)).
Readers may recall that section 10(2) TMA prevents use of a similar mark on identical or similar goods or services covered by a registered trade mark where there exists a likelihood of confusion on the part of the public (which can include a likelihood of association). Section 10(3) TMA prevents use of a mark which is identical or similar to a registered trade mark which has a reputation in the UK, and where such use is without due cause and takes unfair advantage of, or is detrimental to, the distinctive character or repute of the trade mark. The CTMR provides mirror provisions in relation to EU law.
Victoria's Secret attempted a two-pronged defence:
Thomas Pink's UK mark was invalid for lack of distinctiveness.
Thomas Pink's CTM should be revoked on grounds of non-use.
In relation to the second argument, Victoria's Secret submitted that the term "clothing" (class 25) was too wide and vague, and so the registration in this class should be cut back in scope.
The decision
The two defences were dealt with first, as they both concerned the validity of the trade marks upon which Thomas Pink relied.
In relation to non-use of the CTM, it was accepted by Thomas Pink that some goods should be revoked, such as headgear and beachwear; however they argued that "clothing" in class 25 should be maintained. The judge, Birss J, was inclined to agree.
Birss held that "clothing" was not too vague and could be seen to accurately reflect the actual use of the marks made by Thomas Pink, such as on jackets, casualwear and dresses.
The attack on the Thomas Pink's UK trade mark was on the basis that the word "pink" was not distinctive and that the UK mark could not acquire distinctiveness as the mark had been used in a different form to how it was formally registered.
The judge agreed that "pink" was not distinctive, and the additional decorative parts of the mark (eg, the font ) did not alter this finding. Therefore, in order to stay registered, the UK trade mark had to be found to have acquired distinctiveness. Victoria's Secret argued against this, stating that this could not be the case as the UK mark had been used in a different form to the way in which it appeared on the register. However, the judge decided that the trade mark in use differed in only immaterial aspects which would not be noted as significant by the average consumer. Due to the extensive use of the mark, the judge held that the UK trade mark had acquired distinctive character and was therefore valid.
Having dispelled the defences, Birss moved on to consider the infringement claims. In relation to the claims under section 10(2) TMA/Article 9(1)(b) CTMR, the use of "PINK" (alone) on Victoria Secret's products (see examples below) was held to amount to trade mark infringement as such use did give rise to a likelihood of confusion. Use of "PINK" within a slogan was similarly held to constitute infringement, as whilst the logos and slogans would reduce the similarity of the marks this was not enough to avoid a likelihood of confusion. Where the "PINK" mark was used in conjunction with "VICTORIA'S SECRET", the use of "VICTORIA'S SECRET" had to be sufficiently prominent to avoid any confusion. It was held that on the shop fronts, the use of "VICTORIA'S SECRET" was not prominent enough (so there was held to be infringement), whereas on the clothing labels there was no risk of confusion and so no infringement.
Use of "PINK" on Victoria's Secret's products:
Birss also found infringement under section 10(3) TMA/Article 9(1)(c) CTMR. To reach this conclusion, the judge considered each limb of the test and found favourably for Thomas Pink in each:

Thomas Pink had the necessary reputation in the EU/UK;
a link could be established between the conflicting marks (even where the judge had not found a likelihood of confusion);
there was no due cause, even though Victoria's Secret's expansion into Europe could be seen as a natural step following its great (and earlier) success in the US; and
Victoria Secret's use would cause detriment to the repute of Thomas Pink's trade mark, as Thomas Pink was seen as a luxurious professional brand whereas Victoria's Secret was associated with a sexy, mass market position.
In light of the findings of trade mark infringement, the judge did not consider the passing off claim.
Comment
This decision raises a number of interesting points, both legally and factually.
In general, it is helpful that a UK trade mark may gain acquired distinctiveness when it is used in a form that is different to the form in which it is registered (as long as such differences are immaterial). The judge applied the same reasoning to hold that this would also not prevent a mark from acquiring the relevant reputation under Section 10(3) TMA.
Further, it is worth noting that whilst Thomas Pink's evidence on confusion was criticised for originating from its own employees, this weak evidence still had a positive effect in preventing Victoria's Secret from stating that no confusion could be found. This may be of particular interest to brand owners, who may encounter difficulties in persuading consumers to engage in court proceedings to provide their own evidence.
Useful link
Thomas Pink Limited v Victoria's Secret UK Ltd [2014] EWHC 2631 (Ch) (31 July 2014) full decision: http://dycip.com/pinkbrand