Webinar: Brexit and trade marks - where are we now, and what do we (not) know?
Six months into a post-Brexit world, trade mark specialists Matthew Dick and Jana Bogatz present a brief discussion about what we have learned as practitioners, what is likely to happen in the coming months, and what practical advice/steps we should now consider taking.
This webinar will be of interest to individuals and businesses with trade mark interests in the EU and/or UK.
Speakers
Jana Bogatz (Partner, Rechtsanwältin) advises on all contentious and non-contentious aspects of national and international trade mark law with a focus on the development of global trade mark filing strategies, the optimisation of trade mark portfolios, and the enforcement of trade marks against infringements and dilution by third parties through court actions. Jana represents clients in proceedings before the DPMA (German Patent and Trade Mark Office), the Federal German Patent Court, all German civil courts, the European Union Intellectual Property Office (EUIPO) and the European Courts in Luxemburg (GC and CJEU)...read more
Matthew Dick (Partner, Solicitor) specialises in brand-related law and litigation, with a particular focus on trade marks. Matthew representes both small and multinational clients from a variety of industries, providing a full-service offering: from the development and clearance of new brands, to registration strategy, oppositions, use and exploitation in the marketplace and ultimately enforcement, all on a worldwide basis. He also has a wealth of expertise in trade mark portfolio management. Matthew is a member of the Unfair Competition Team for MARQUES – the European association representing the interests of trade mark owners...read more
Registration
The webinar will run at 9am, noon and 5pm BST (UK time) on Tuesday 06 July 2021. To register for your preferred webinar time (and select local time options), please select the appropriate link below:
Once your registration has been approved, please be sure to check system requirements to avoid any connection issues.
Sign up for webinar invitations
If you haven't already done so, you can sign up to receive email invitations to future D Young & Co webinars by sending us your contact details. You can also unsubscribe or update your mailing preferences at any time by contacting us at this email address. Our privacy policy can be viewed here: www.dyoung.com/privacy.

SIGN UP TO RECEIVE WEBINAR INVITATIONS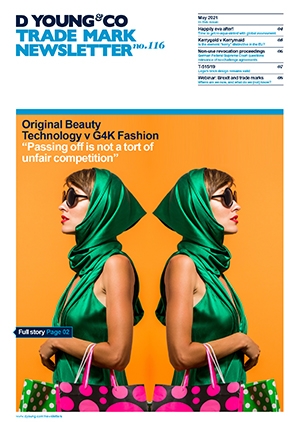 TM newsletter Read the latest edition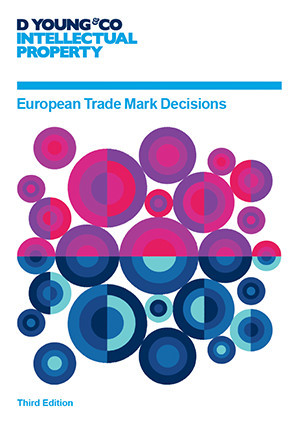 TM book European Trade Mark Decisions