Your 1 month Brexit trade mark countdown – essential preparations prior to and after 01 Jan 2021
With just one month remaining until the end of the transition period (01 Jan 2021), Chartered Trade Mark Attorney Flora Cook will discuss the essential actions trade mark owners need to consider in order to be Brexit-ready.
Now available on demand
First broadcast 01 December 2020, this webinar is now available on demand.
View webinar
The webinar will cover:
What steps need to be taken by the end of December 2020?
The comparable UK trade mark.
Implications for pending EU registry actions.
EU and comparable UK trade mark renewals, expiry and late renewals.
We will also consider actions for 2021 as the new regime commences, including consideration of:
The UKIPO requirement for a UK address for service for new UK trade mark applications and requests to start contentious proceedings.
Refiling new UK applications where an EU trade mark is not yet registered.
Contentious proceedings in relation to re-filings and/or comparable UK trade marks.
We are monitoring UK Government, UKIPO and EUIPO updates concerning these final days in the Brexit transition process and will incorporate any key last minute points into this webinar. If you would like to share any specific questions for consideration during the presentation please email us at registrations@dyoung.com.
This webinar will be of particular interest to UK and EU trade mark owners and in-house counsel.
Speaker
Flora Cook is a Senior Associate and Chartered Trade Mark Attorney with D Young & Co LLP and works with clients across various sectors such as pharmaceuticals and medical devices, energy, fashion and retail, food and beverage, FMCG, media and entertainment. Her practice covers all aspects of trade mark filing and prosecution, including clearance searching programmes, international filing strategy, assignment projects and portfolio management. She regularly provides registrability advice and also also handles opposition and cancellation proceedings before the EU and UK trade mark offices. She has extensive experience of managing large-scale evidence exercises, covering acquired distinctiveness, proof of use, and reputation at UK and Europe-wide levels. Flora was recognised as an IPSTARS Rising Star in 2020.
Registration
The webinar will run at 9am, noon and 5pm GMT on Tuesday 01 December 2020. To register for your preferred webinar time (and select local time options), please select the appropriate link below:

Once your registration has been approved, please be sure to check system requirements to avoid any connection issues.
About D Young & Co
D Young & Co is a leading European IP firm, ranked top tier in the UK legal directories including Chambers, Legal 500, IPSTARS, World Trademark Review 1000 and the Financial Times. For over 125 years we've been applying our world-class expertise to provide the broadest, highest quality and most cost-efficient IP service possible. With offices in both the UK and Germany, D Young & Co's service will not be affected by Brexit and we will continue to advise on both EU and UK trade marks and designs.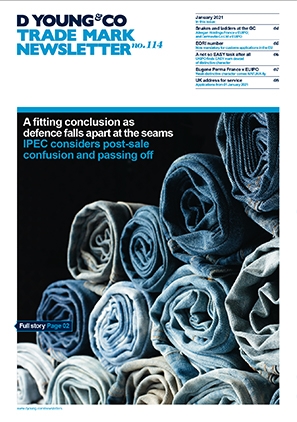 TM newsletter Read the latest edition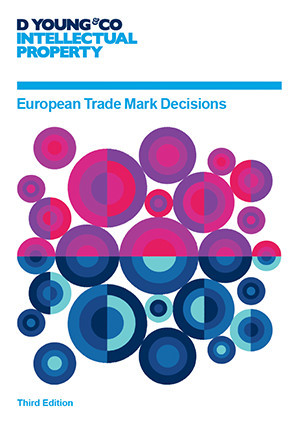 TM book European Trade Mark Decisions